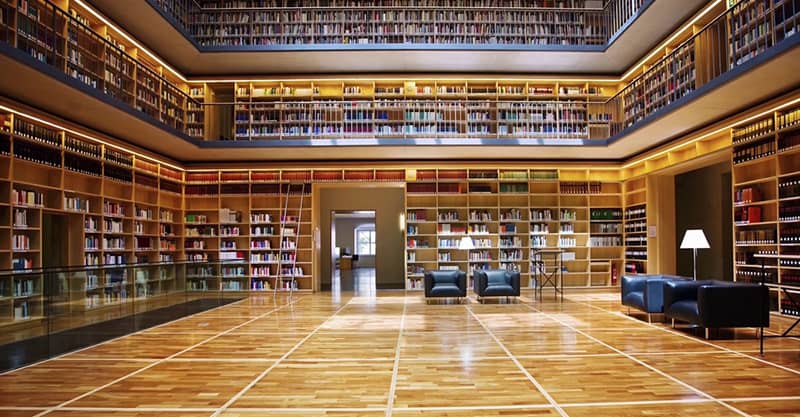 Suddenly, that day comes when you realize your library needs a website.
Even though you might be working hard to establish yourself in your community, building an online presence is now essential to making more people aware of your services, events, and volunteering opportunities.
Fortunately, even if you don't have any tech skills, you can build a library website. I'm going to show you how.
How To Make A Library Website, Even With No Design Experience
A lot of people assume you need a lot of technical experience to get a website up and running. This isn't necessarily the case.
I'm going to show you the easiest way to set up your library website, even if you have no tech skills whatsoever.
We're going to be using a platform called WordPress, which you may have heard of. WordPress now powers roughly 30% of the web and is the most popular website building tool overall.
There are a couple of things you need to start building your website – a domain name, and a hosting plan.
Your domain name is the address people will go to find your website (i.e. www.mylibrarywebsite.com).
A hosting plan is what allows your website to be accessed by the public. It costs a bit of money, but you can't build your website without it.
You can purchase your domain name and your hosting plan at Justhost, which is what I recommend.
Have you secured your domain name and hosting plan? Good, then you're ready to install WordPress. This used to be more complicated, but these days it's a one-click process. Aren't you happy to know that?
With WordPress installed, your website is ready to accept content. See how fast and easy this process was?
Now it's time to make your website look good. There is an easy way to make this happen, and most web developers these days don't make things more complicated on themselves than they need to either. You may as well follow suit.
Let's look at the best library themes for WordPress.
The Best Library Themes For WordPress (This Will Make Your Website Look Good)
There is no shortage of great themes to choose from for your library website. But there aren't too many that were built exclusively with libraries in mind.
So, I've handpicked some of the best themes you could easily modify for your own uses.
Let's get your website looking good! Here are three themes for you to check out.
BEBO – Book Issue CD/DVD Store Publish Library WP
As the title suggests, the BEBO theme was built with CDs, DVDs, and books in mind (and, your library might have all of these). So, it's great for displaying media in different categories (i.e. Fiction, Sci-Fi, Fantasy, etc.), and it has a clean, modern look that's easy on the eyes.
But it is fair to say it has been built to help you sell. As a library, that probably isn't your top priority, but this theme could still be shoehorned to achieve your own ends.
BEBO comes with seven homepage layout options, is 100% responsive, comes with the Visual Composer and Revolution Slider plugins, integrates with Google Maps, and more.
Academix – Multipurpose Education, Researcher And Professor WordPress Theme
Academix is the perfect theme for researchers and professors, but can also make for a great library theme, given that it's designed to hold and display a lot of content.
This theme comes with an events page, King Composer page builder, pre-made page layouts, and is responsive and SEO-friendly.
Edmento – Education WordPress Theme
By default, the Edmento theme looks a lot like a university website – not surprising considering its intended purpose.
Edmento comes with three pre-designed homepages, a drag and drop page builder, extended pages, posts and header variations, unlimited colors, is fully responsive and SEO optimized, and more.
Other Library Sites For Inspiration
You might be surprised at the types of websites public libraries now have. The modern library is no longer just a quiet place to study or do research. Many libraries are now positioning themselves as hubs in the community, and even allow people to access books and other media digitally.
So, what does a great library site look like? Here are several for you to check out:
Clinton Macomb Public Library: Clinton Macomb puts their search feature front and center, allowing users to find what they're looking for via keyword, title, author, or subject. They highlight several new books, movies, and CDs on their homepage, which is a great way to engage users. They also have staff picks and events on their homepage.
Evanston Public Library: Evanston Public Library has a well-organized and appealing homepage. As with Clinton Macomb Public Library, they put search front and center, helping their visitors find what they're looking for quickly and easy. They've kept their navigation uncluttered by putting all their pages in a nested menu. They've also made it easy for visitors to find their hours.
The Seattle Public Library: Another library with a contemporary online presence. Their search bar can be found at the top, but they also make it easy for users to reserve a computer or room, make a payment, get a museum pass, and even homework help. Their event calendar is full, which helps them attract more traffic onsite and for their website.
Note: Don't Feel You Have To List All Your Books On Your Website
As you may have seen from the top library websites, many of them allow users to view their entire catalog of books online.
This is good to do if you can. But making a page for every book, adding an image and description, displaying availability, and allowing users to put it on hold, can be a time-consuming and monotonous process, especially if you have 10s of thousands of titles to create pages for.
The SEO benefits are obvious, but it's unrealistic to think you can get everything cataloged, especially if you're the only one working on your website.
You could simply display and create pages for recent arrivals. That's one way of driving some engagement without dedicating hours, days, weeks, and even months to painstakingly listing all your books.
It's important to prioritize the content you create for your website. Setting up an events calendar should prove relatively straightforward. Beyond that, it comes down to whatever you want to highlight most – blog posts, services, your volunteer program, or whatever else you can think of.
You can still build your site's authority without listing all your titles. You should prominently display your location and hours, as this is the type of information users are likely to be looking for when they come to your website.
Focusing on local SEO (rather than general SEO) is a good idea, as it will allow you to get the greatest benefit possible from building your online presence.
How To Create A Website For Librarians Conclusion
Libraries don't always have a dedicated website team, and as such, the job of creating a website can fall into the lap of the sharpest librarian. If you're reading this, that's probably you.
Even if you don't know how to program or code, if you know how to use a computer and various apps, building your first website shouldn't be a problem. And be reassured that even if your first website isn't perfect, it can always be improved upon. Check our library marketing secrets for additional help getting your website out there.