Cryptocurrency is all the rage right now, and interest in it is only going to increase as awareness grows.
As a coin maker, or someone about to make your own coin, you know this already.
What you may not know is how to set up a website. Not to worry – this straightforward guide will show you the steps you need to take to get your new WordPress site set up.
Ready? Let's get going!
Step By Step: Create Your Crypto Coin Website Fast With WordPress
Here's a video showing you how to set up the core cryptocurrency website:
WordPress is one of the most popular website building tools out there and represents over 25% of the web. So, if you're looking to build a website, WordPress is unmistakably one of the best platforms available.
The first thing you're going to need is a domain name and a hosting plan. I recommend using JustHost to get set up quickly. Ideally, your domain name would be the name of your coin followed by ".com" (i.e. bitcoin.com).
The next step is to install and set up WordPress. This is a simple process with most hosting platforms these days and shouldn't bog you down.
Now it's time to make your website. Click on the provided link to see exactly how this whole process works. You'll also find additional information on the steps already described.
Making your website first involves creating relevant pages and filling them with content. You'll also want to choose a theme that's suited to your business. We'll take a closer look at several themes you can use for your cryptocurrency website a little later.
Now that we've got your website set up, it's time to look at several other important aspects of developing a great website for your audience.
Important: Make The Content For Your Website Suitable For Both Beginners And Experienced Industry Figures
Many people have heard of bitcoin and the blockchain. Unfortunately, even if they've heard those terms, they don't necessarily know how it works or what it means.
So, if your website is littered with niche-specific lingo, and you don't take the time to simplify and explain what you're about, your site is only going to appeal to experienced industry figures.
If you're a new coin maker, then you probably want to appeal to a broad range of people – from those who are just beginning to learn about cryptocurrencies to investors who are looking for another opportunity.
It can be difficult to create content for both types of audiences. So, one way of dealing with this challenge is by creating different sections for beginners and experts. The beginners section could feature answers to some of the most obvious and common questions. The experts section could explain why industry figures should be following you and discuss more sophisticated industry topics.
Another way of handling this challenge is by creating "modules" of content, like you would for an online course. You don't necessarily need to call them modules because that could be a turnoff for your visitors, but splitting your content into beginner, intermediate, and expert segments will make it easy for your visitors to identify where they are on their journey.
Themes You Can Use For Your Cryptocurrency Website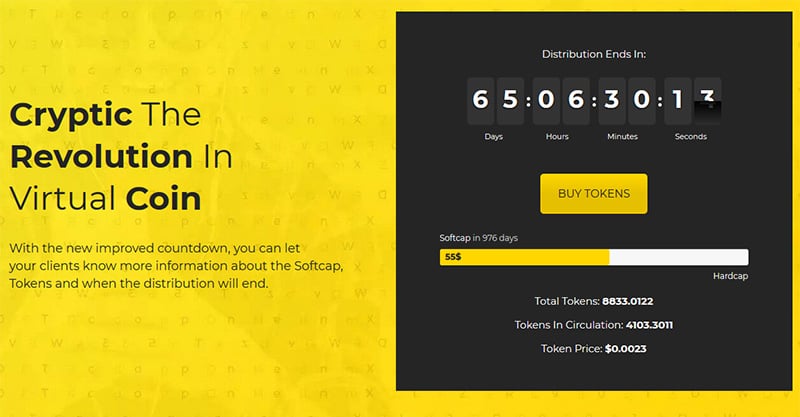 WordPress themes make it easy for you to customize the design of your website.
Here are a few themes you can use to set up your cryptocurrency website.
Cryptic – Cryptocurrency WordPress Theme
The award-winning Cryptic theme is attractive, comes with a cryptocurrency calculator, allows you to build your site without any coding experience, is fast-loading, and offers great support besides.
Other key features include an ICO history timeline, shop, multiple header variants, 600+ Google fonts, custom widgets, multiple colors and skins, and more.
Crypterio – Bitcoin, ICO And Cryptocurrency WordPress Theme
The Crypterio theme features a clean design, can show real-time exchange rates, comes with a cryptocoins converter, and is bundled with several premium plugins.
This theme has a responsive design, includes several templates for the services, case study, blog & news, and team pages, is cross-browser compatible, is updated regularly, offers 24/7 professional support, and a great deal more.
Kryptex | Cryptocurrency & Mining WP Theme
The Kryptex theme is optimized for mobile devices, features a drag and drop builder, is easy to customize, is SEO ready, features two homepage layouts, comes with lots of shortcodes, and more.
The theme also comes with interactive Ajax search, flexible colors and typography, professional support, and more.
What Pages Should A Digital Currency Site Have?
Since you need to give individuals and investors easy access to the information they're looking for, it's imperative that your site be furnished with certain pages.
Here are several examples of the types of pages your digital currency website should have:
A "start here" page. Imagine a scenario where someone stumbles on your website but has no idea what they're looking at. A simple "start here" page can introduce your visitors to your coin, explain cryptocurrency, and give them options for what to do next. An "about" page can serve the same purpose but needs to be developed with intention.
A "buy" page. If your cryptocurrency can be bought on a specific exchange (or several exchanges), it only makes sense to give your visitors the option to invest on the spot.
A "news" page. Investors are going to be interested in the latest developments pertaining to your currency. Give them a simple way of staying up-to-date with new happenings.
Many digital currency websites also feature a community or forum section where users can discuss all things related to their coin. You may consider setting up these features as well, if you're an advanced user.
Top Cryptocurrency Website Examples
Here are several sites worth taking some inspiration from:
Bitcoin: It's difficult if not impossible to talk cryptocurrency without referring to bitcoin. It just so happens they have a great website too. bitcoin.com is a highly visual, content-driven website with information on just about everything you could ever wish to know about bitcoin.
Litecoin.com: Litecoin.com has a simple, attractive, one-page website. This gives the user the impression what they're looking at isn't as complicated as it seems. One of the first things on their page is the "Guide", where users can learn about Litecoin. Then, they go onto show users how they can set up their wallet, buy, and spend Litecoin. The last item on their page is the news section, which shows their latest social media updates.
Bytecoin: The Bytecoin website gets straight to the point, inviting its visitors to buy or get their wallet set up. They have separate sections for individuals, businesses, and investors, which makes it easy for visitors to know exactly where to go next. They also put a name to the face by showing exactly who is working on this project.
How To Create A Cryptocurrency Website Conclusion
With plenty of great, attractive WordPress themes to choose from, getting your cryptocurrency website set up should be straightforward. Having a web presence is key, so use the above tips to flesh out your site and offer the best user experience possible.
Once your website is set up and ready for the public, you'll need to begin promoting your cryptocurrency website to attract visitors.